Technology has always been at the forefront of development, whether it is individual or national. Knowledge of and access to information technology is strongly linked to a higher standard of living, higher skills, and greater career advancement. Following the COVID-19 pandemic, the immersion/use of technology in daily life has risen exponentially.
Government policies and schemes, banking transactions, job applications, and college admissions have all moved online to improve accessibility and transparency, which ultimately benefits citizens. However, there is a significant digital divide in our country, especially for those living in isolated or remote areas.
These people are typically less exposed to technology and are at a disadvantage when it comes to reaping the full benefits. The areas usually have limited electricity and internet access, and there are fewer people who are digitally savvy. Because the locations are difficult to reach or have a lower population, no trainers or classes are available, and citizens are digitally illiterate. During our research, we discovered that women and girls were not permitted to travel or leave their communities to study. The ideal solution to the problems that people in such areas face was to bring knowledge and learning to their doorstep. As a result, the Digital Bus concept was created to bridge the digital divide between the privileged and the underprivileged.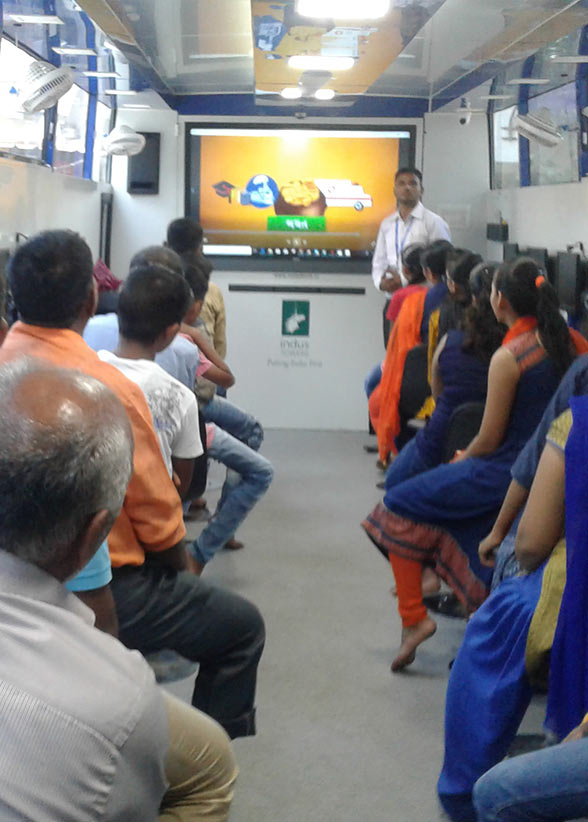 The cutting-edge Digital Bus es are mobile classrooms that bring IT courses, assessment, and certification, as well as access to the world of information and knowledge, to students in remote areas. The solar-powered mobile classroom includes the following features:16 to 20 Computers
Video conferencing and webinar facilities
Printing solutions
Software and E-learning tools to impart learning
4 trainers to deliver the courses
The Program has five components to it:
Provide Digital
Literacy at the
Village
Doorstep
Entrepreneurship
Development
Program
Common
public utility
services
Video
conferencing
consultation
Dissemination
of Government
policies
The Key Objectives of the program are:
Reducing the Digital divide for those living in remote areas
Awareness of computers as a window to knowledge
Linkages to Government programs and initiatives
Enhancing interest-levels in learning
Introducing the multidisciplinary approach to education
Using computers as a tool for daily tasks
Encouraging collaborative learning
Developing interpersonal skills
Providing awareness on technology amongst rural community
Providing equal opportunities for rural youth
There is a systematic process that we follow to implement the Digital Bus project in the villages.
1. Village Mapping and Community Engagement:
As a first step, villages are identified and mapped. Meetings with school administrators and community members are held on a regular basis to raise awareness of the project and enrol
students. Activities for community building and rapport building are held on a regular basis.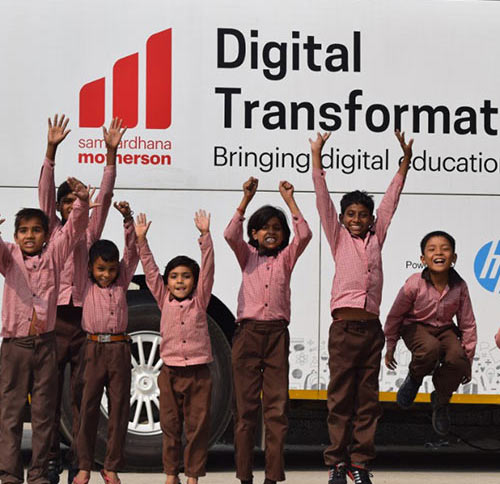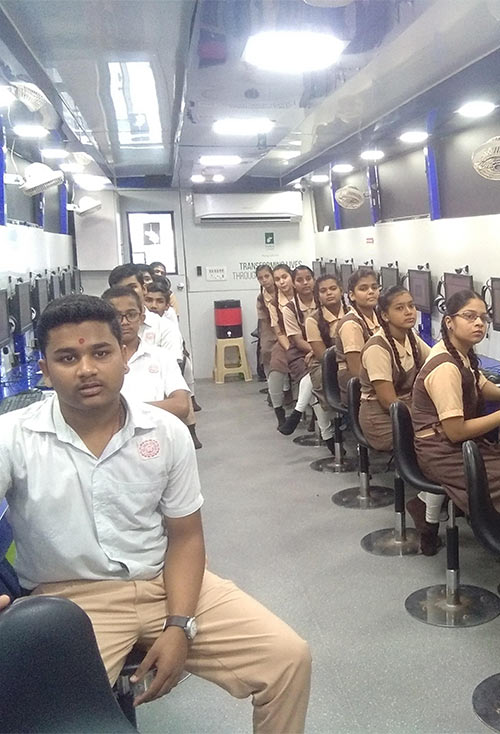 2. Student Counseling and Enrolment:
After that, students are enrolled in the programme and receive career counselling. Career counselling assists students in discovering their strengths, talents, and skills so that they can make informed decisions. The facilitators hold a special session for adults to demonstrate the value additions that technology would bring. Women are counselled to increase their enrollment through other women in the community.
Certificate Courses are delivered:
Following that, the certified module is shared with students. NDLM, Advance IT, and Entrepreneurship Development are among the courses available.
3. Video Conferencing and Guest Speakers:
The Digital Bus is equipped with video conferencing capabilities. As part of the programme initiative, it was decided that the community should be sensitized, capacitated, and empowered on issues such as women's empowerment, financial literacy, medical consultation, job opportunities, the environment, and seasonal diseases through video conferencing.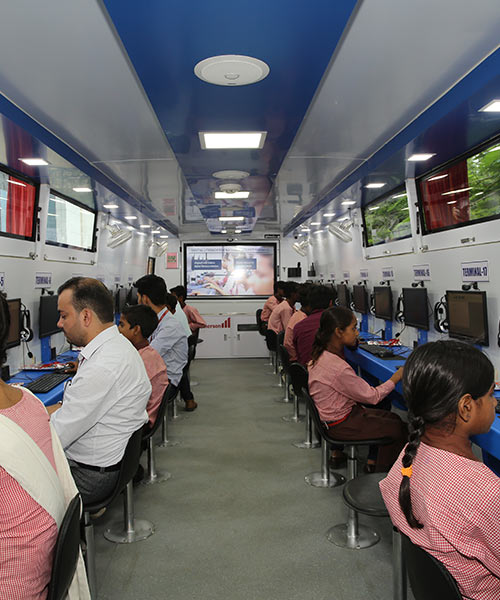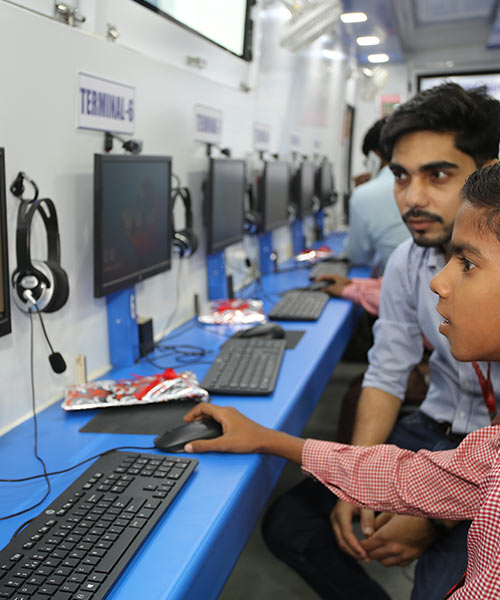 4. Development of Support Groups
Facilitators/trainers also assist community members in forming support groups. These support groups are made up of students from various batches who have completed the Digital Bus courses successfully. They assist one another in learning new skills, re – establishing course content, applying for government assistance, and providing social support. By assisting more girls and women in obtaining an education, support groups have played an especially important role in inclusivity and gender equality.
RASMI ARIYA, 31, lives on Madhuvan Avenue in Koyali village, Vadodara district, Gujarat. She completed her studies until the tenth grade. She shares a home with her husband, who works for a private company. Rasmi runs a beauty salon in her village and earns about INR 15,000 per month.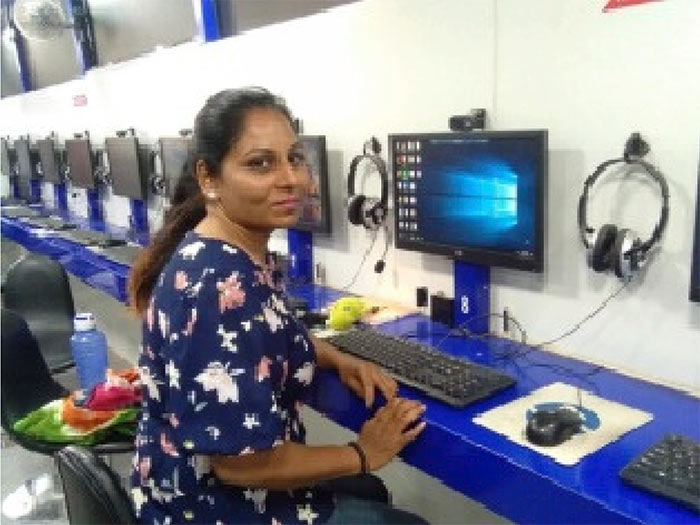 She enrolled in the Indus DTV Education on Wheels (Digital Bus ) program's NDLM course. She gained not only theoretical knowledge but also computer skills, such as how to use Microsoft Office and the internet. Rasmi had no prior experience with computers or their use. She not only improved her computer skills but also her confidence after completing the course.
"Now I have knowledge of computers," Rasmi said at the end of the course. This will assist me in teaching others and will be extremely beneficial in managing and expanding my business. Client data management, social media promotion for my salon, and inventory creation are now all possibilities. I will also be able to track my monthly profit and loss, which will assist me in growing my business."