Hole-in-the-Wall Learning Station
Hole-in-the-Wall Learning Station is a unique concept designed by Dr. Sugata Mitra, NIIT's chief scientist emeritus. The Learning Station is based on a pedagogy that promotes minimal invasive education. 
The project with its innovative methodology was first piloted in New Delhi. Dr. Mitra's team carved a 'Hole-in-the-Wall' – that separated NIIT premises from the adjourning slum in Kalkaji. A computer was set up in the hole. All who resided across the wall could freely access this kiosk. The new machine very quickly caught the curiosity of the children residing in the Kalkaji slum. It had opened a whole new world for them.
This pilot project revealed that children, irrespective of their social and economic situation, if given regular access and opportunity can benefit from simple technology and self-learning. Such interventions would also go a long way in bridging the digital divide.
This approach to learning does not only enhance elementary education but also contributes towards imparting key life skills amongst children living in urban slums and rural communities. Given the success of the pilot and the positive response the project has received from its beneficiaries, NIIT Foundation was poised to scale up the idea of Hole-in-the-Wall.
What started, as an experiment from a Hole-in-the-Wall has become India's gift to the world. It is a child's window to the outside world.
Since its inception, Hole-in-the-Wall Learning Stations has brought a
spark of learning
to over 2.5 million children. Currently there are more than 200 active Hole-in-the-Wall Learning Stations in India and abroad.
Hole-in-the-Wall methodology primarily focuses on diluting any mental barriers associated with using computers. By placing the Hole-in-the-Wall kiosks in the middle of slums, playgrounds, boundary walls or in the corridors of schools or in a community building, its outreach and impact can be experienced and witnessed by all. The project is benefitting in school and out of school children, adolescents and adult community members.
With innovative digital technology, alternate energy and connectivity platforms, Hole-in-the-Wall has made computers and the internet accessible to children living in urban slums and rural communities.
There are many benefits of the Hole-in-the-Wall Learning Stations:
Enables Learning where there are no learning facilities and in remote locations
Access to technology
Access to quality digital and innovative content
Solar powered un-interrupted learning
Promotes Gender Equality making no distinction amongst learners based on their gender
Reduced number of out-of-school children and improved attendance
High impact group learning through knowledge sharing
Development of 21st century skills – life skills
Hole-in-the-Wall Learning Station undertook a national level research on the impact that the project has had on learning and skill development of children. It is established that it invariably leads to computer literacy. The study also suggested that the method can be easily adapted for learning other subjects including life skills and it has a positive social impact as well. .
This model of Hole-in-the-Wall Learning Station is built on the following framework: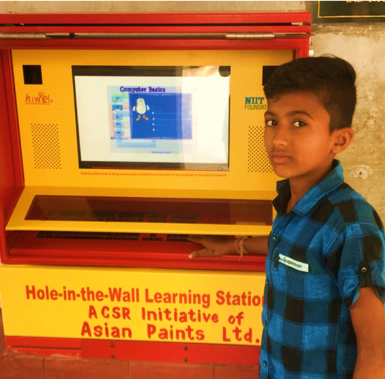 Piyush Naresh Bhai Patwadiya is studying at Prathmik Shala Juna Borbhatha in Class VII. His father works as an auto driver and mother sells vegetables at a nearby market. Piyush has always been a slow learner in school. He takes time to understand concepts. Conventional teaching learning methods were not giving him enough time to absorb what was being taught in class. He found subjects like Maths, Science and English to be difficult. He was lagging behind in his studies and loosing interest in coming to school. According to his teacher, Ms. Hemlata Ben, he was very reserved as compared to his other peers and would be restless in class. He would sit at the back of the classroom and would not participate.
Hole-in-the-Wall learning station (HiWEP) started in the month of February 2018 at Piyush's school. He began using the HiWEP Learning Station. He enjoyed the play-way learning method. The station uses examples to explain concepts and Piyush could learn according to his pace and interest. He began to slowly understand subjects and could even revise topics on the station.
Piyush is grasping subjects due to this interactive method of learning. He is a regular visitor at the station now. He uses MS Paint a lot and manages to solve Maths problems with ease on the system. He encourages other children to use the learning station as well. His concentration and participation in class has visibly improved and he wants to go to school everyday.