Financial Literacy Program
Financial Literacy Program
Financial literacy program focuses on the ability to manage personal finance matters in an efficient manner. It is a key life skill required for an individual's personal and professional growth. It is important because it enables us to provide for ourselves and avoids situations of debt. Where E–transaction is becoming a way of life, financial inclusion is necessary and only possible when people are financially literate. 
NIIT Foundation recognizes the need for financial inclusion and has partnered with key corporate partners to provide for a sustained Financial Literacy Training Program in semi-urban and parts of rural India.
Before designing and implementing this training, NIIT Foundation in partnership with a corporate partner conducted a pilot study. The pilot study took place in three locations, which included Pune in Maharashtra, Udaipur in Rajasthan and Delhi.
This study was held to understand the need for such a financial literacy training program and the expectations from the beneficiaries on this topic. This study revealed that there is a huge demand for financial training especially in urban slums and in rural India. The pilot study revealed that most people were either semi financially literate or are not financially aware.
Based on these findings, a financial literacy training program was developed. The content was designed based on the need that arose from the communities during the pilot study. The Financial Literacy Program design and delivery developed has evolved during implementation based on the ground realities.
The training is a 10-hour certificate Financial Literacy course. It has rich animated content and video-based delivery that can be downloaded on one's phone, laptop etc. The target audience includes a wide range of students ranging from the age group of 14-17 years, who are getting trained to enter into the workforce and 18 years and above adults who require training on financial literacy. 
In Financial Literacy Program, there are two models of delivery in order to reach out to our target audience:
This financial literacy program is designed to enable participants to learn the "basics" of financial management that allows them to use technology in ways that are relevant to their daily lives.
The participants through this training learn the basics of banking and savings, mobile accounts and e-wallets, wise borrowing, investments, risk management with insurance and financial planning. The participant also develops skills that are needed for day to day financial operations for example- writing a financial diary, using e-wallets, online banking, and online insurance among others. 
The ultimate aim of this program is to empower and impact citizens through financial literacy and encourage growth and equity across India.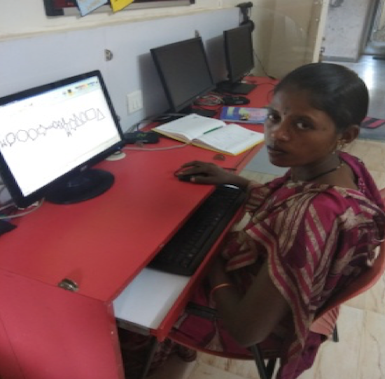 Anusaya belongs to the Katkari Tribal Community in Maharashtra. The social conditions of this community, especially for the women and children are filled with suffering. Women are sexually harassed and children are forced into child labour. Most of the children, especially girls are illiterate because of the non-availability of schools in the nearby migrant areas.
Anusaya too was forced to drop out off school and was married off at a young age. She lived with her husband in Sutarwadi locality in Pune. They had two sons. Recently, Anusaya lost her husband in a work place accident. He was the only earning member in the family. Anusaya was left all alone to fend for herself and her two sons who are now in primary school.
Anusaya was forced to take on the responsibility of providing for her family and found a job as peon in the nearby Balwadi School. Through the principal of the school she learnt about the HCCB Career Development Centre being run by NIIT Foundation in Pirangut district in Pune. Anusaya knew that the job in the Balwadi school was not sustainable. She felt this was her opportunity to harness her skills and knowledge and aspire for something better. 
The centre manager at Pirangut could see the determination in Anusaya's eyes. She decided to sponsor her course at the centre. Anusaya in the midst of her job at the school, taking care of her household and raising her two children, managed to find time and attend the digital literacy classes. Anusaya began to learn how to use audiovisuals, computers, mouse, key pad, paintbrush etc. All this was very new for her. Initially she would hesitate to interact with other students. However as she began to master her skills and the subject matter, a newfound confidence developed in Anusaya. She began helping other students in class. In the group activity sessions, she shares her experience to motivate others.
Post the completion of the course; Anusaya landed a government job in the Gram Panchayat as a Data Entry Operator. This course and job has helped Anusaya in acquiring a regular income and providing her family with security. Anusaya's story is inspirational as it shows how one can convert a tragedy into an opportunity and fear into hope.